When the most recent iPhones were released, I was conflicted, just as many others were. Should I go with the 6? Or should I go big and get the 6 Plus? As the preorder deadline loomed, I made a quick decision to order both. I would order the 6 Plus through T-Mobile with their Equipment Installment program. I would order the regular sized device through Apple. I checked both return policies, and I was comfortable with them.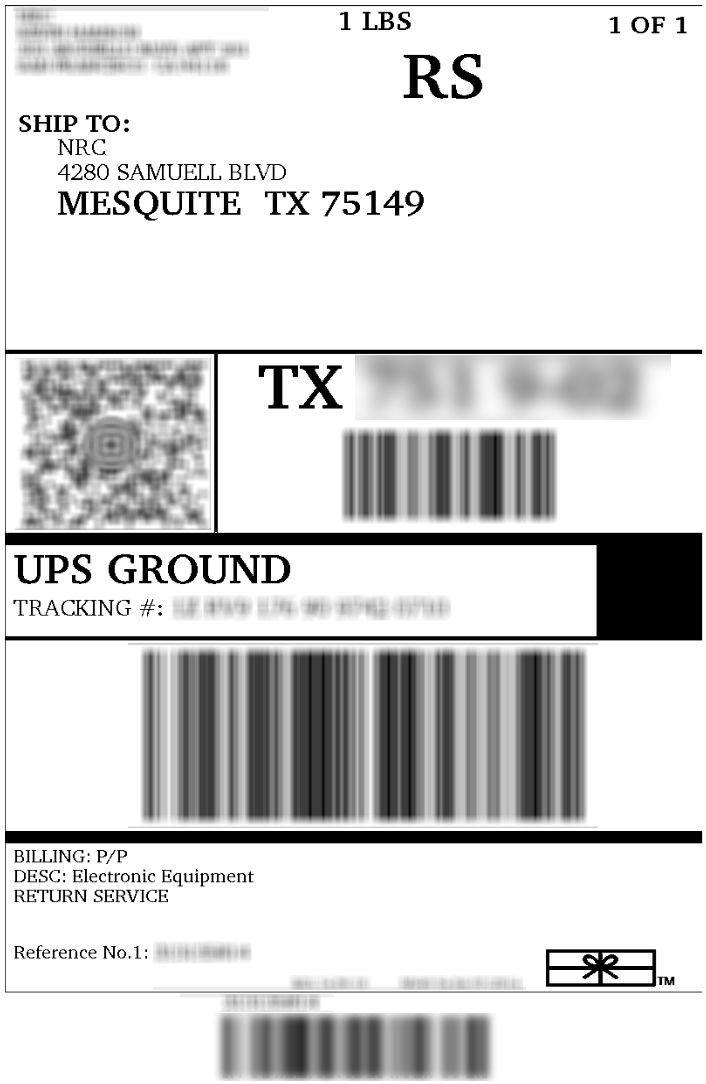 The purchase strategy worked just fine. I got both devices. I played with them both, and I decided that the 6 Plus was a bit too big for me. I read the return policy for T-Mobile, and I called them up to get a return label printed. There was no issue, and I dropped off the item for shipment at a UPS Store on October 4, 2014.
I waited a few days, expecting my refund to post soon. After a week or so, I called T-Mobile.
I spoke to a friendly woman on the phone, and she advised me to read the return policy more closely. It turns out that it takes two billing cycles before a refund can be processed to an account. I checked the return policy. You have to do a lot of digging, but eventually you can find this:

Yup. The policy says it takes two billing cycles. That's a bit crazy to me. Can you imagine returning a product to Best Buy and then having them tell you that in 60 days you will get a refund? The even more annoying part about this is that T-Mobile charges you a monthly Equipment Installment Plan (EIP) fee for you to pay off your device. Even though I have returned the item, when my bill comes, I still need to pay the fee until they recognize the refund. Once the refund is issued, the EIP payments get credited back.
While I was annoyed, rules are rules. I should have read more carefully. After two billing cycles passed, I still didn't have my refund, and when I logged into my account on the T-Mobile website, there was no mention that the phone had been received, even though I still had all of the tracking information that showed the phone had been delivered.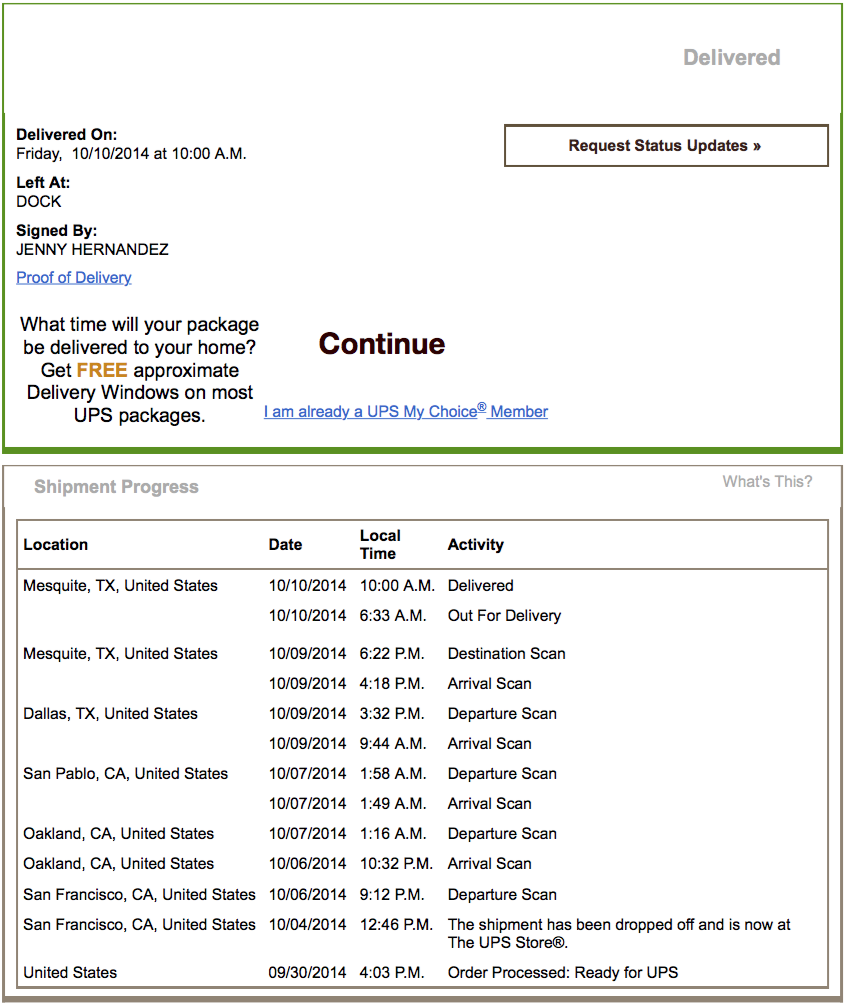 On December 16, 2014, over two months after I returned the device, I called T-Mobile to check the status of the refund. I spoke with a gentleman who was quite friendly, and he began to research my issue. He said he thought he had figured things out and that I should be hearing from T-Mobile within 72 hours. PROGRESS!
72 hours passed. I heard nothing. I let the holidays pass, and I called again on December 29, 2014. When I called, I spoke with a man named Darion, and he was pretty friendly as well. He indicated that "we were going to get this resolved," and then he asked me to just wait a moment. All of a sudden, someone else picked up. I was transferred to a new person. The new person may have been from a different department, and the new employee had no idea what my call was about.
Time to start over. I expressed to Belinda how displeased I was with the service. I told her I didn't want to pay the restocking fee, as I didn't believe that T-Mobile was following their own policy by delaying the refund for so long. She spent a long time looking through my account, and it seemed like she really had no idea how to get my refund. I could tell she wanted to help, but she wasn't getting too far. She finally came back and said that she saw that a few days earlier, a "handset research form" had been submitted. Apparently this is the form that makes someone go look for the device you returned. I wasn't confident they would be able to find a small iPhone box months after they had received it. I gave her my tracking number again, letting her know that the phone was signed for and received by T-Mobile. She said she was going to submit a fresh form. After 33 minutes on the phone, she gave me a reference number. She said I would hear something with in 72 hours.
72 hours passed. Nothing.
Then on January 4, 2015, I got an e-mail from T-Mobile. Was this going to be the end of all my pain, in one beautiful confirmation e-mail?? Opening the e-mail yielded a surprise: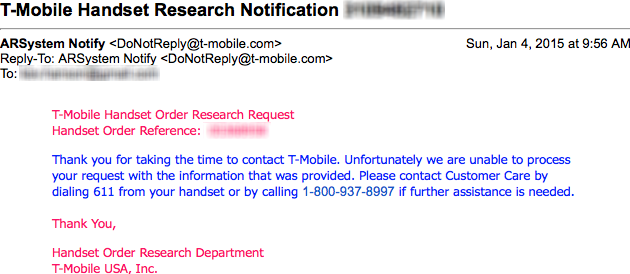 "Thank you for taking the time to contact T-Mobile. Unfortunately we are unable to process your request with the information that was provided. Please contact Customer Care by dialing 611 from your handset or by calling 1-800-937-8997 if further assistance is needed."
ARE YOU KIDDING ME!?
I called back later that day. I spoke with a gentleman named Trent. Again, Trent was quite friendly, and he felt really bad about the situation. He kept telling me that he was going to "take care of me." I told him I wanted to speak to a supervisor, and he told me one would reach out to me within 24 hours. Nevertheless, he appeared to be making some type of progress, finishing the call by saying, "You have a wonderful night. We'll get this taken care of. The back office should start the refund process tomorrow." Really? Finally?
24 hours passed. No supervisor reached out to me. Then… I got two consecutive e-mails!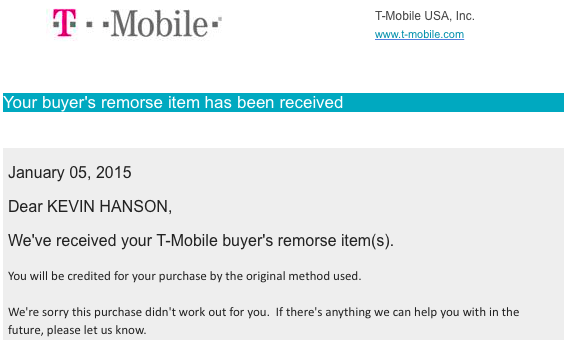 Oh sweet Jesus! Here it comes! I waited 48 hours for my EIP charges to credit, but when I logged into my T-Mobile account, it still showed the full amount.
On January 8, I called up T-Mobile again. I spoke to a friendly woman, and she told me that she saw that things had been returned so she had to put in a supervisor's note to get the charges adjusted. She told me that in a couple days things would be reflected.
On January 10, my bill still looked the same. I called up T-Mobile, and I spoke to a woman who told me I had a pending credit, that I needed to pay my bill in full now, but that on my NEXT billing cycle, the credits would hit, and all would be well. It turns out, she was right.
In the end, I got my refund. It took me FOUR MONTHS. Am I an outlier? It doesn't appear that way. As a Reddit geek, I browse the T-Mobile section at least once a week. How about these gems?
I'm not alone. T-Mobile is supposed to be the consumer-friendly uncarrier. How can a multi-month return process be consumer friendly? If there were a sound logistical reason, I would understand. But on the flipside, I think this drawn out return policy adds a lot of risk. They should issue a refund as soon as they receive a device and confirm that it is in good working order. By waiting so long, you get situations like mine or like the ones I linked to where phones can't be found and handset research forms need to be submitted. T-Mobile, fix your business processes for the mutual benefit of your company and your customers!