I really wanted to love my Simple.TV. The premise behind it was so simple, just like the name. The premise of Simple.TV is to essentially create a DVR server that can serve up television to any device with a web browser or a Simple.TV app. It's just a standard tuner. No cablecard or anything like that. Also, bring your own harddrive. It can stream in HD quality to your local network or anywhere else, bridging functionality of a TiVo and a Slingbox together, except… more simple… That would be great if it worked, but it actually doesn't work. By "it doesn't work," I don't mean that it isn't good enough. I mean it actually doesn't work.
I really wanted to like Simple.TV. I backed them on Kickstarter, ordering two units. I live in San Francisco, but being a Los Angeles native, I wanted to install one of these in my parents' house so I could stream Lakers games up here, and I planned to install one here. When the Engadget review came out, I thought they were way too harsh. Heck… I was so excited to receive my Simple.TV that I even made an unboxing video. That's how lame I am!
After I unboxed it, it was time to set it all up! The process of plugging everything in is quite simple. It has a coax passthrough so if you're already using something like a TiVo, which I am, you can pass coax into the Simple.TV and back out to the TiVo. That worked just fine. There are two ethernet ports. I believe the second one is for passthrough of ethernet, but it is labeled only as Ethernet2, and I can't find any documentation about it. There isn't a product manual for the Simple.TV, not even in PDF form online. There's a power port, and then there's also a USB port for the external drive. That's where I hit my first snag.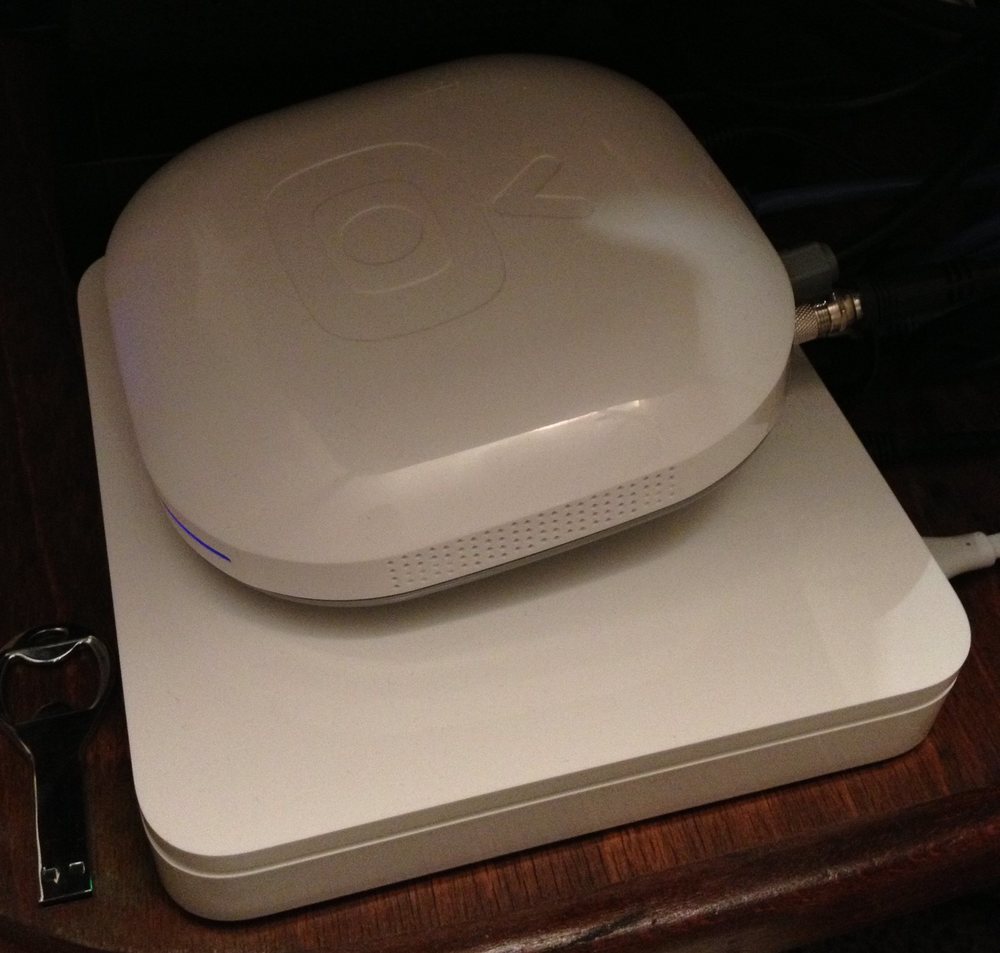 I don't want to record any TV on my Simple.TV. I have a TiVo for recording all of my shows and viewing them locally. All I want to do is stream sports. Thus, I made the assumption that I wouldn't need a hard drive. This assumption was incorrect. Simple.TV requires a hard drive just for buffering, even if you're only streaming live content. I'll be fair to Simple.TV. Their site does say you need a hard drive. I wish they were explicit, though, that you need a drive even if you don't ever plan to record shows. In any case, I'll fully take the blame for that. I went to the local store to grab a USB 2.0 hard drive. $80 later, I had one.
Simple.TV has a web-based setup tool, and it's actually very simple to use. Kudos to whoever designed that. Once your Simple.TV is plugged in, you literally just navigate to Simple.TV, log on, it autodetects your Simple.TV, and then you step through the process. Here are a couple screenshots.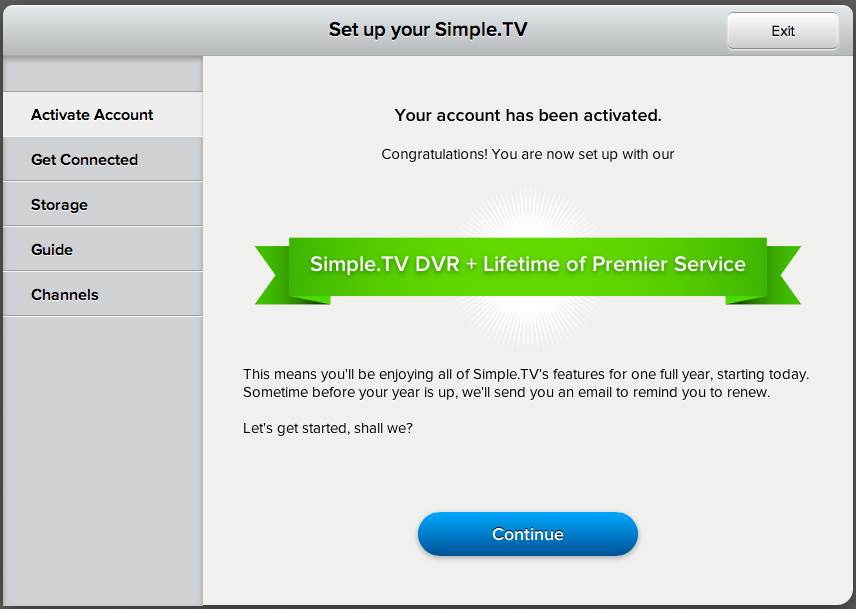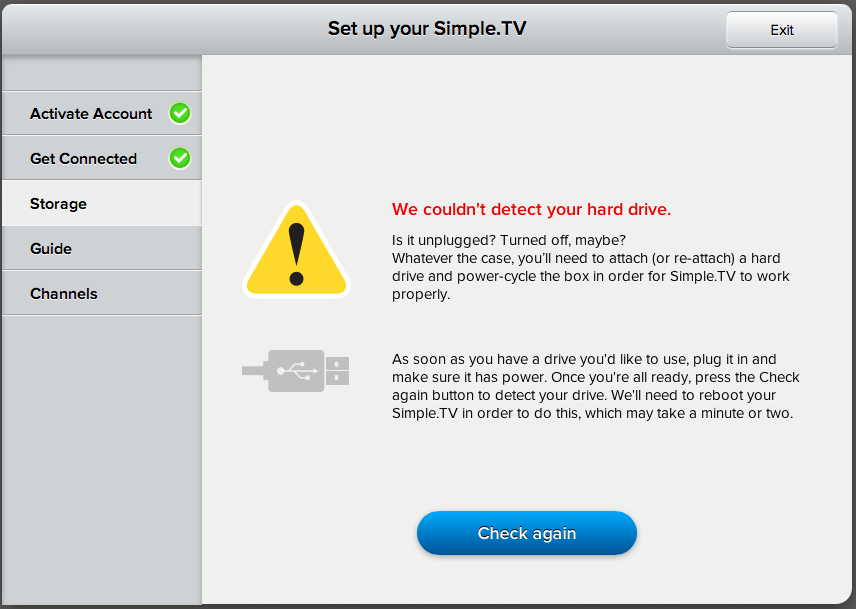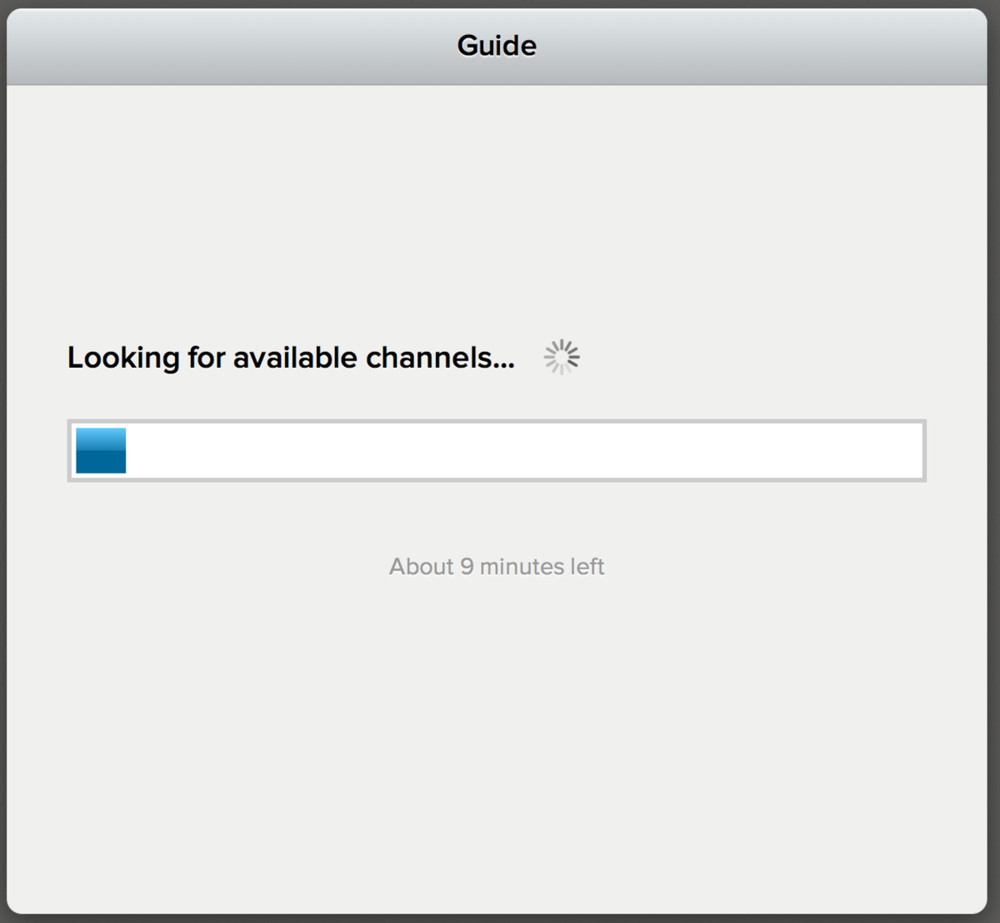 As I said, besides not knowing that I needed a hard drive, which I fault myself for, setup was simple. Once it was all set up, I was ready to start watching some TV! When I fired up my first channel, I got the following: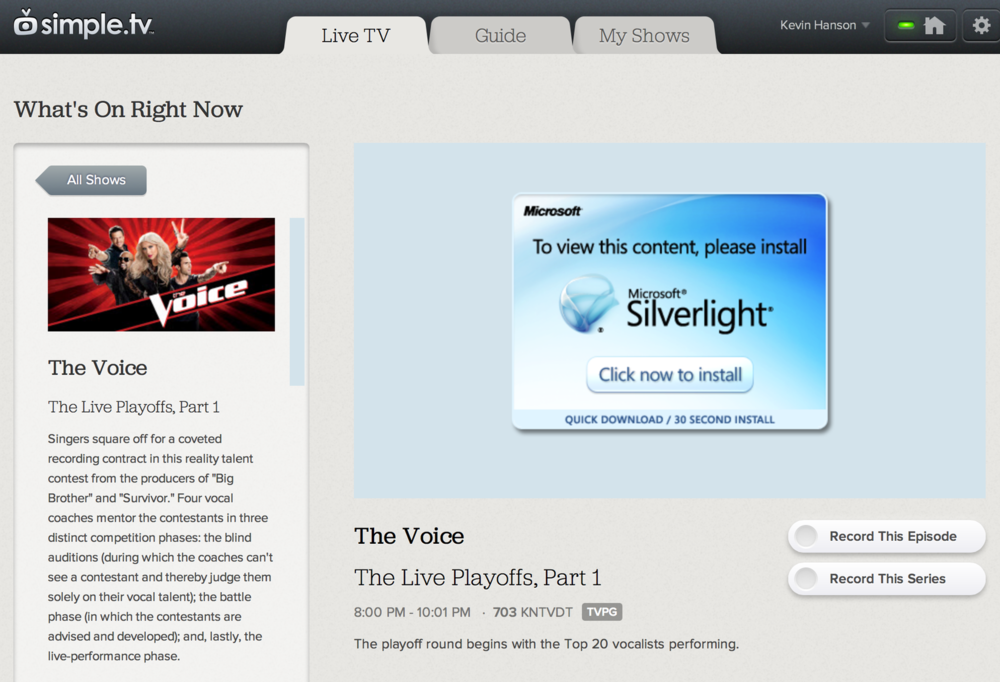 Seriously? I need to install SILVERLIGHT!??! This is November 2012. In November 2011, Microsoft said HTML5 is the future, and I think everyone agrees that Silverlight / Flash are dead in the water. I don't want Silverlight bloatware on my computer. Furthermore, the word "silverlight" is nowhere to be found on the Simple.TV website…. and there is no manual. I had no idea I needed this bloatware. Okay fine… Fair enough… I'll install this garbage.
— [I install Silverlight] —
Okay. Now that Silverlight's installed, let's watch some TV! I found a random sitcom, and I navigated the web guide UI, pictured below, to watch the show.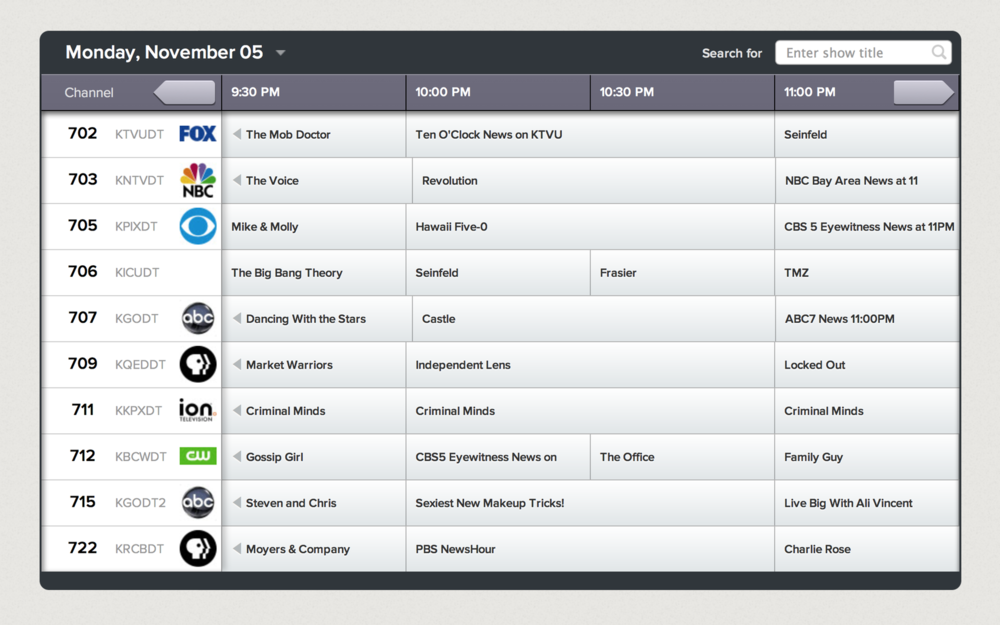 Tuning the show I wanted took FIVE SECONDS. That was annoying, but after it tuned, the quality looked nice and crisp. NEAT! Okay. Let's change the channel! I changed the channel, and then after some time, I got the following screen: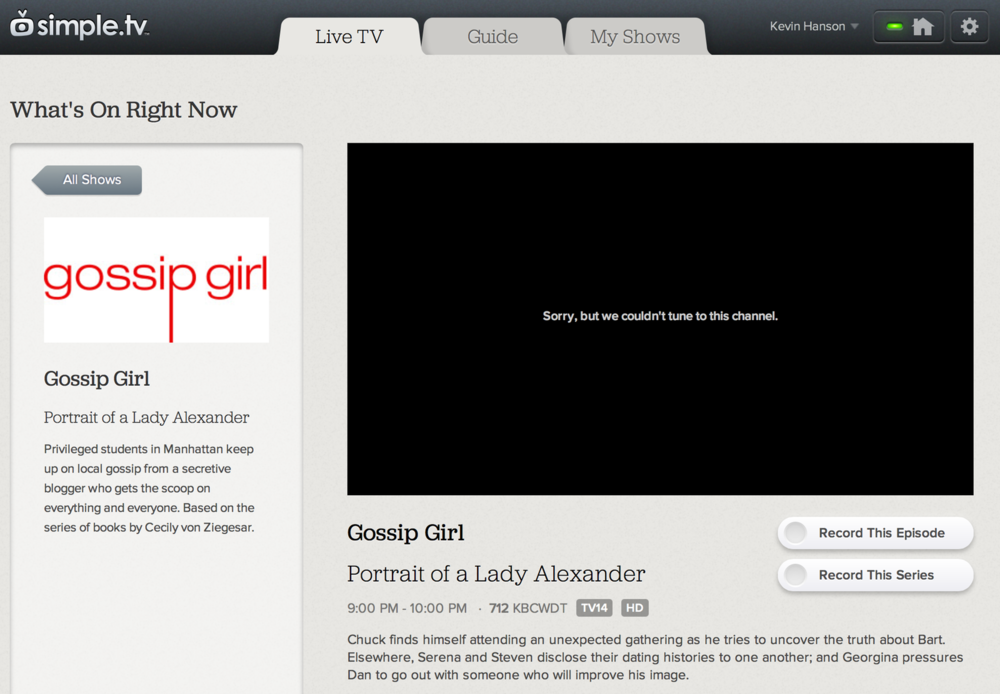 Sorry, but we couldn't tune to this channel. Why not? Okay… weird… I'll try another one..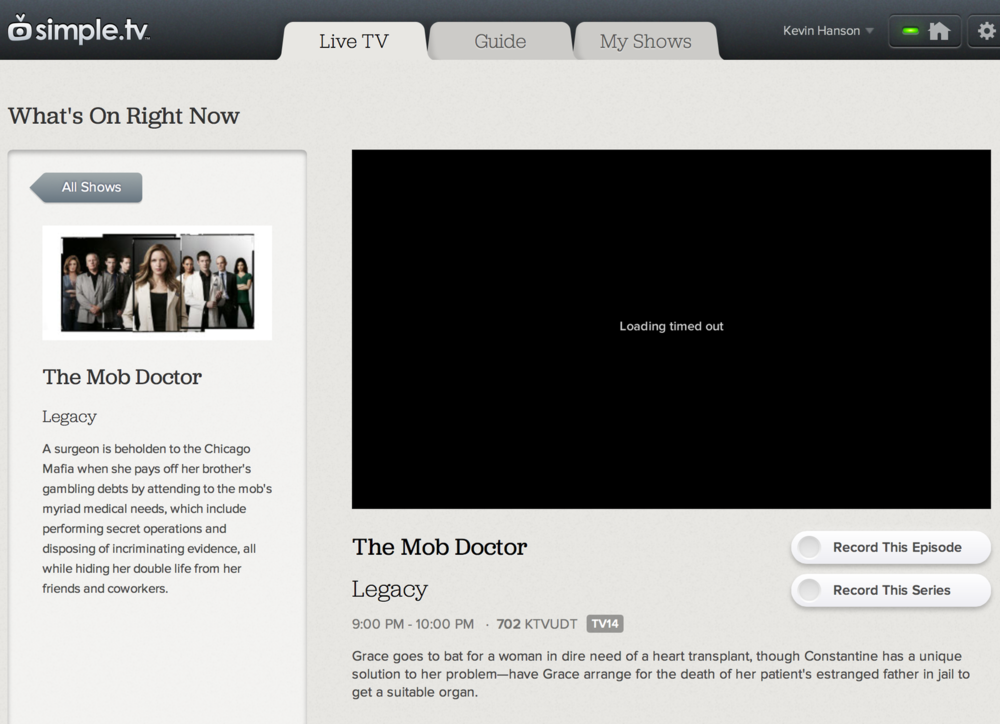 Loading timed out. Really? Why? How can my TiVo, which is connected to the wall through the Simple.TV, tune channels in sub-second time. And honestly, this is where my experience has ended. I give it a try every few days, and I get the same result. Am I alone? NOPE. Check out their support site: https://getsatisfaction.com/simpletv/ . It doesn't look like this product is working for very many people at all. Also, if you look at most of the tickets, there are plenty of angry users, but there really aren't too many Simple.TV employees there looking to help or make comments. What about support via Twitter? That's weird too. The Simple.TV twitter account used to tweet many times per day. However, today is November 15, and the Simple.TV account hasn't tweeted since November 8.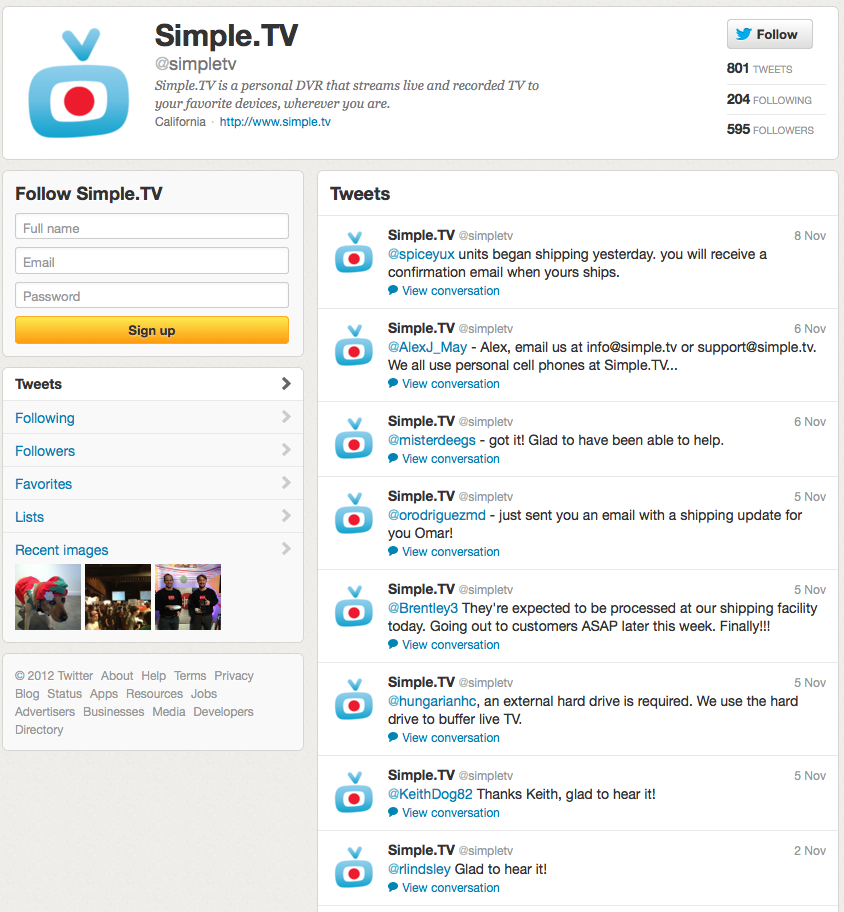 The company's twitter is silent, and they haven't offered any help for the people like myself who are having zero success. I feel like a child with a broken toy. I can't even tell you if Simple.TV is good or bad… because in my estimation, it's not finished. It's not functional for somewhere between a large group and a large majority of users. After my experiences over the past week, I now think Engadget was being too generous. I hope the problem is just software. I hope Simple.TV can push us a software fix, and then we can all be happy. If it's a hardware problem, I'm guessing the company is probably finished. Whatever the problem is, we would all be better off if they would start being more transparent. I hope Simple.TV makes all of these problems go away so I can write a REAL review and rave about how amazing this product is. But until they fix things and start communicating, I cannot at all recommend this product to anyone.